Welcome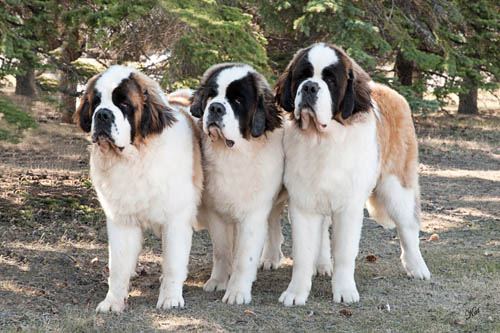 Snowridge is a small show home in rural eastern Manitoba. Our dogs are not kenneled since they are pets first, show dogs second and possibly breeding stock if they pass their health testing and are a good representative of their breed. They spend their days lolling around the house, going for daily walks in the woods and checking out the yard.
I have been actively showing dogs since 1999 although I got my first Saint Bernard 30+ years ago when my sons were young. I believe that the best interest of the purebred dog must be uppermost in a breeder's mind. Health testing is one very important aspect that may improve the next generation's quality of life as well as giving an owner the chance to enjoy the affection of their pet for a longer time.
I am a member in good standing of the following clubs:
Canadian Kennel Club
Saint Fanciers of Manitoba
Saint Bernard Fanciers of Canada
Saint Bernard Club of America
Planned Litters
Ultrasound showed no pups.  No plans for 2018.